Street Academy of Albany
Harriet Gibbons High School
The Streakers Basketball Team
In the 1970's, Street Academy didn't have a basketball court of its own. It did, however, have a basketball team, and the "Streakers" played for several seasons, putting together winning seasons and showcasing the school's hoops talent. Some seasons included a staff versus students contest, and for one or two seasons the team had its own cheer squad.
One of the team's coaches, Milton Horne, noted that in 1977 the Streakers "were small in size but big in heart. They gave their all for a winning cause. The team played hard-nose man-to-man defense from baseline to baseline. The team was led by Harry Cain, Ray McGill and Skip Donley. ALso starting were Twist Welcome and Brian Trotter. Other players on the team were John Jones, an outstanding jump-shooter with good moves; Lester Royal, a good rebounder with a nice, soft shot around the basket, and Jerry DeWitt. Our leading scorer was Harry Cain with 20 points a game. The top rebounder was "Big Brian" Trotter. The defensive ace all over the court was Edward "Twist" Welcome."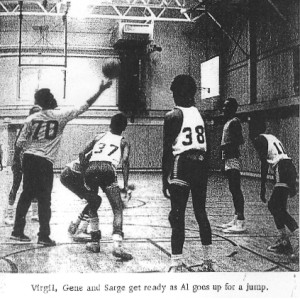 From 1972 yearbook, earliest known photograph of the Streakers in action.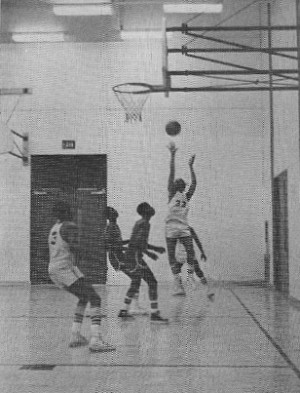 From 1974 yearbook, Harvey Biggers (33) shoots while everyone else watches.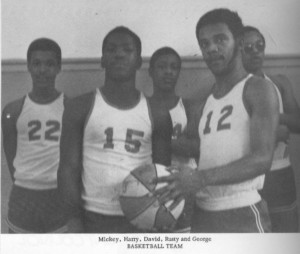 From 1976 yearbook. Left to right are Mickey, Harry, David, Rusty and George. Basketball looks to be a two-tone Spalding ball.


The Streakers' competition was mostly made up of community centers and other programs, and unfortunately there are very few statistics or records kept regarding the Streakers. The Streakers' home court was essentially the Arbor Hill Community Center, as the school did not have its own dedicated basketball facility. The available won-loss records are listed below; the team may have played in other seasons, but no records of those games exist.
1974 SEASON (9-3)

Neighborhood Police 92, Street Academy 90
Carver Community Center 86, Street Academy 83
Street Academy 92, Hackett Jr. High 56
Street Academy 88, Albany High Annex 61
Street Academy 75, Livingston Jr. High 65
Street Academy 76, Urban Center 65
Street Academy 99, Carver Community Center 71
Street Academy 71, Street Academy Teachers 37
Street Academy 77, Livingston Jr. High 53
Albany Jewish CC 59, Street Academy 55
Street Academy 58, Troy Jewish CC 53
Street Academy 67, Camp Cass 43

1977 SEASON (4-4)

Street Academy 85, Camp Cass 65
Jewish Community Center 70, Street Academy 60
Street Academy 105, Albany Boys Club (Livingston) 75
Street Academy 51, Albany Youth Corps 48
Street Academy 56, Troy Youth Corps 55
Jewish Community Center 56, Street Academy 46
Albany Youth Corps 64, Street Academy 59
Street Academy 75, Albany Boys Club (Delaware) 55

Web site contents © Copyright YourName 2006, All rights reserved.
Website templates