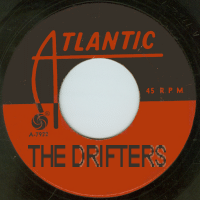 It's October 30, 1998, a brisk afternoon along the Ohio-Pennsylvania border, and the Vocal Group Hall of Fame inducts its first class of trios and quartets and quintets of harmony. Among those who received honors for their golden throats and platinum hits in that initial ceremony were Clyde McPhatter and the Drifters, represented on stage by the last surviving member of that quintet's lineup, Bill Pinkney. "Clyde McPhatter has passed on," he said in his induction speech, "and Bubba Thrasher has passed on… and Gerhart Thrasher is gone … And God let me be here tonight," Pinkney said, holding back the tears, "to let me smell the flowers."
The flowers Pinkney spoke of were dozens of hits spawned by the Drifters, one of the most influential doo-wop / harmony groups of all time. Despite various lineup changes that made the Drifters' name synonymous with their members' tenure, from 1953 to 1968 the Drifters were hitmakers on both the pop and R&B charts. One group of Drifters became Atlantic Records' biggest selling group of the 1950's, then they were replaced by a second group of Drifters, who became Atlantic's biggest charting group of the early 1960's. Their later recordings are still heard on North Carolina beaches and in Northern England dance clubs. Over 20 different men were part of the Atlantic Drifters lineage, half of them with lead vocals on at least one Drifters track, to the point where the Drifters were inducted TWICE into the Vocal Group Hall of Fame. The songwriters and producers who worked on Drifters records were a Who's Who of Brill Building and early R&B tunesmiths. In fact, one could convincingly argue that the Drifters were not just a collection of male African-American vocalists, they were the sound of Atlantic soul music, just as if there were a group called the Motowns or the Stax-Volt All-Stars.
Bill Pinkney was there at the beginning, when he sang with a New York gospel group called the Jerusalem Stars, and became good friends with another singer from the Mount Lebanon Gospel Singers, Clyde McPhatter. "We all were singing gospel music at that time. We got to know each other, Clyde was a young man at the time, so was I, and Clyde was only 15 years old at that time. I was 23 at that time, maybe 24. I knew Clyde as he sang gospel until Billy Ward discovered Clyde." Singer Billy Ward signed McPhatter to his new group, the Dominoes, and between 1950 and 1953 McPhatter was part of one of the biggest R&B groups of the era, singing on hits like "Have Mercy Baby" and "Do Something For Me." But despite the success, McPhatter felt he was being underpaid and underappreciated, and told Ward so.
The acrimony came to a head in the spring of 1953, when the Dominoes were headlining a New York City nightclub. When a patron asked Billy Ward where McPhatter was, Ward, having had his fill of McPhatter, simply told the patron, "I fired his ass." Upon hearing this news, the patron – Atlantic Records president Ahmet Ertegun – immediately contacted McPhatter and signed him to an exclusive recording contract.
McPhatter immediately assembled his own group, culled from members of various popular New York City gospel groups. "The first group came from Clyde's old Mount Lebanon Gospel Singers," recalled Pinkney (that lineup included McPhatter, David Baughan, James Johnson, Daniel Baldwin and Chick Anderson). "But there was nothing ever released by them, maybe one song, 'Lucille.' Atlantic wasn't satisfied with the voices on that record – they wanted some more stronger, richer voices for that true Dixie Hummingbirds sound. So then Clyde then contacted Gerhart Thrasher, who was with the Thrasher Wanderers, and his brother Andrew Thrasher. And they contacted me, I was with the Jerusalem Stars at that time. We met a guy by the name of Willie Ferbee, he was a bass singer that sang bass on the first sessions, and was also singing fifth tenor. But Willie Ferbee took ill, and could not travel and could not work. That's when Clyde McPhatter moved my position from top tenor to bass, from top to bottom. I had never sung bass before in my life. But being a gospel singer, you can just about do all of that. A lot of people who had the highest tenor voice in the world can hit sometimes the lowest voice, the deepest bass voice. That's the way it worked with me at that time. From then on, after that first session, I was doing the bass and I turned out to be a very good bass singer."
This group, with the inclusion of Walter Adams as the group's guitarist, entered the Atlantic studios in New York City on August 9, 1953, for their first recording session. Among the tracks laid down that day were "Let The Boogie Woogie Roll" (which would later surface in 1960, credited only to Clyde McPhatter"), the doo-wop ballads "The Way I Feel" and "Gone," and a jump blues track that would start the Drifters on their way to stardom, "Money Honey."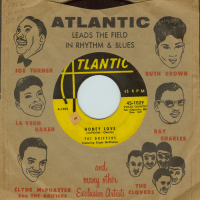 "Money Honey" eventually spent 11 weeks atop the Billboard R&B singles chart. Their next song, the ballad "Such A Night," also performed well, peaking at #2 on the R&B jukebox charts, making Clyde McPhatter and the Drifters one of the hottest acts in early 1954.
Many of the early Dominoes and Midnighters records, including titles like "Work With Me Annie" and "Sixty Minute Man," were banned from radio airplay. This also happened with several of the Drifters tracks, including "Such A Night" (banned by Detroit's WXYZ) and its eventual follow-up, "Honey Love" (which WDIA in Memphis took off its playlists). "If you listen to the words of 'Sixty Minute Man,' said Pinkney, 'it's just a song. It's the same thing they did with 'Honey Love' and 'Such a Night.' People would check a record like that, the DJ's would check it and smash it and throw it in the trash can. And they would call it garbage. Back then, we were only trying to sell a story. The songs were clean, people's minds were just in the gutter, they took it wherever they wanted to carry it."
Because many R&B artists were originally gospel singers, they already had enough training and rehearsals before entering the studio, to enable them to cut the recording in a minimum of takes. McPhatter, in fact, initially asked Ahmet Ertegun if the label president would be drumming on his sessions, as Syd Nathan had played drums on Dominoes recordings years ago. "It was one take, two mikes," recalled Pinkney. "The lead singer would have one mike, and the background gathered around one big studio mike. Guys back then knew harmony, and it meant a lot - these were all gospel singers. Jesse Stone, who wrote some of our songs (including "Money Honey"), wouldn't let it go unless it was done right. But it didn't take long to get it right, because we all knew harmony and we all had good strong voices. Being gospel singers, if you notice on all of the first recordings, all had gospel voices and arrangements; you could tell that they came from the church. That went from about 1953 right up to 1958. You got that same type of sound. And those sounds are recognizable today."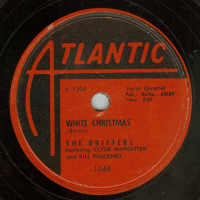 The Drifters were on tour in 1953, and during a stay in Philadelphia, McPhatter thought about recording some songs for the Christmas season. "Clyde said we've got to do a Christmas song," said Bill Pinkney, "he said, 'Let's do White Christmas.' He said we'll change it up a little bit, and asked me to think of something. Well, there used to be a group called the Ravens, Jimmy Ricks and the Ravens. Well, me being a lover of that bass singer, Jimmy Ricks, I thought of doing the intro to 'White Christmas' in a deep baritone. Nobody had ever heard it sung that way, so that's why people say I'm singing in bass. I just jazzed up the vocals, and we rehearsed it in our room at the Chesterfield Hotel in Philadelphia for maybe two hours, and it was ready to be recorded."
In February 1954, "White Christmas" was recorded at the Atlantic studios, along with another holiday standard, "The Bells of St. Mary's," and another R&B chart-topping hit for the Drifters, "Honey Love." "Clyde took the high part, the top tenor part, on 'White Christmas,' and I came back in after that. All the arrangement is mine. I don't know how much credit I got for it - my name's on the record, but they misspelled it (as Pinckney)."
When McPhatter originally formed the Drifters, he held 50% of the ownership of the group's name; the other 50% was held by his manager, George Treadwell. When McPhatter left the Drifters in 1954 to fulfill his military draft obligations (and eventually to a solo career of his own), he sold his 50% ownership to George Treadwell - essentially giving the former bandleader complete control over the Drifters name, and making the vocalists Treadwell's salaried employees. Clyde McPhatter would eventually have a successful solo career upon leaving the Drifters. His songs "Treasure of Love," "Long Lonely Nights" and "A Lover's Question" topped the Billboard R&B charts, with "A Lover's Question" selling over a million copies. By 1960, McPhatter moved from Atlantic to Mercury Records, continuing to have hits like "Lover Please" and "Little Bitty Pretty One." Sadly, McPhatter's hitmaking run ended in 1964, as the British Invasion dominated American pop radio.
Meanwhile, the Drifters continued to record and perform, going through a succession of lead vocalists, including David Baughan and Bobby Hendricks, as well as current Drifters Gerhart Thrasher and Bill Pinkney. Johnny Moore, who previously sang on the collectible Hornets 45, "I Can't Believe," did the lead vocals on two other Drifters Top 10 R&B hits, "Adorable" and "Ruby Baby," before he too left the group. By 1958, the Drifters were a mess. The group's roster had changed more times than a losing baseball team's starting lineup - after McPhatter left, Bill Pinkney parted with the group in 1956; and by May 1958, the lineup consisted of lead tenor Bobby Hendricks, tenor Gerhart Thrasher, baritone Jimmy Millinder and bass Tommy Evans.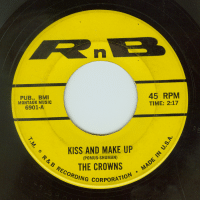 One night, while the Drifters were playing the Apollo Theater in New York City, George Treadwell had an idea. During the years when Clyde McPhatter was with the group, Treadwell had negotiated a 10-year deal with the Apollo management for the Drifters to appear at the fabled theater. While the current Drifters lineup performing at a less than acceptable level, Treadwell was more impressed by another act that night, a Harlem quartet called the Crowns, whose song "Kiss and Make Up" had sold a few copies. So Treadwell fired the current Drifters lineup, and hired the Crowns - tenor Charlie Thomas, tenor Benjamin Nelson, baritone Dock Green and bass Elsbeary Hobbs - to be his new Drifters.
For Nelson, who would later change his name to "Ben E. King," it was a moment beyond his wildest dreams. "We were just four young guys out of Harlem and were picked up by George Treadwell to take over and start a whole new thing," said King in a 2000 interview, "and we were very lucky coming out of the chute because we had Ahmet Ertegun and Jerry Wexler from Atlantic Records to walk us through what should happen now in our life with fulfilling the shoes of the original Drifters. As the Crowns, we were a great local group that was doing well, and we had a lot of hopes. But when we were selected to become the new set of Drifters, all those hopes went into a whole other level of professionalism. It was a name that had strength, and we had obligations of living up to that name, and we did relatively well for it, I think."
After a few months on the road, where the new Drifters were singing the old Drifters' songs, the group returned to the Atlantic studios to work with Jerry Leiber and Mike Stoller on some new tracks. Leiber and Stoller were no strangers to working with the first Drifters - they had penned "Drip Drop," "Ruby Baby" and "Fools Fall In Love," three Drifters R&B hits. But during the recording session, they worked on one track, originally written by Ben E. King as an uptempo jump blues number on which Charlie Thomas would sing, "There Goes My Baby." By the time "There Goes My Baby" was finished, the song's tempo slowed to a ballad, and Ben E. King took over as lead vocal after Charlie Thomas went through a few takes. In a fit of inspiration, Leiber and Stoller mixed in a string section and tympani to the song, something seldom attempted in an R&B record. In fact, when the song was finally finished, there was some question as to whether the session should be scrapped and the group start over completely.
Yet there was something magical on that tape - a mixture of classical strings and echo-laden doo-wop, with Ben E. King nearly crying his eyes out over the loss of his true love. When it was released in June 1959, "There Goes My Baby" (Atlantic 2025) rocketed up the R&B charts - as well as the pop charts, where it hit the Top 5. Unfortunately, at the time "There Goes My Baby" was rising up the charts, the Drifters were on tour in the deep South - with no money, no way to contact their management, and no idea that the song had become a pop and R&B smash. "We went down to Biloxi to do a show at an air force base," recalled Charlie Thomas, "and we couldn't get out of Mississippi, because we gambled up all the money - we had some little crap games hidden in the back of the house, we were having fun with the girls and drinking whiskey. Those were my wine drinkin' days. The guitar player pawned his amp for about $30, and that paid for gas and food to get to Mobile."
Although the Drifters did get to Mobile, they spent most of their down time continuing to party and gamble and drink, and eventually their funds - and the fun - both ran out. "There was a diner across the street from our hotel," said Thomas. "The owner kept running tabs on us, and then one day she called up and said, 'The only thing I can do, to help get your money back, is to give you all a job in my diner.' So she fixed the diner up and we did some shows there.
"One day a DJ came in and he said to us, 'Hey, you're the Drifters.'
"And we said 'Yeah, we're the Drifters,' because we had recorded some tracks for Atlantic before we went on the road.
"The DJ said we had a hit record. I asked 'what record is that?' It was "There Goes My Baby." That DJ called Atlantic Records for us, and he got Jerry Wexler on the phone, and Jerry said, 'We've been looking all over for you guys.' Jerry telegraphed us some money and we got back to New York to record some more songs."
The success of "There Goes My Baby" spurred Leiber and Stoller to exploit the Spanish baion rhythm of that song in a string of other Drifters recordings. Whether it was Ben E. King singing lead on "Nobody But Me," or Johnnie Williams taking the solo on a Doc Pomus-Mort Shuman composition, "(If You Cry) True Love, True Love," the Drifters continued their hitmaking ways. The group also rode with package tours, with several different acts crammed into a single bus on a series of one-night gigs throughout North America. One night, during one of those concert tours, the Drifters almost killed Screamin' Jay Hawkins.
During his shows, Hawkins would climb into a coffin, which would be wheeled onto the stage (sometimes with the Drifters acting as pallbearers). As the curtains rose and the orchestra played his signature hit "I Put A Spell On You," Hawkins would open the lid of the coffin and climb out, much to the delight of the audience. One night, at a performance at the Apollo Theater, Charlie Thomas and Ben E. King got an up-close glimpse of Hawkins' stage casket. Thomas still remembers that night - and the chaos that ensued. "I told Ben E., 'I'm going to run back stage here and take a look behind the curtain before we go on stage.'
"So we looked backstage, and Ben E. said, 'Look Charlie, there's Screaming Jay Hawkins' coffin.'
"I wanted to see what it looked like so I went over there by it. I just brushed by and I head something go click, but I paid it no mind, I just kept on walking It was show time, so I said to Ben E. that we'd better get back from the curtains."
Unbeknownst to Charlie Thomas, he had accidentally dislodged some matchbooks that were wedged in the coffin's locking mechanism. As long as those matchbooks were in place, Hawkins could open the coffin from the inside.
"So we went out there and played for the audience. After our performance, the stagehands pushed the coffin out on the stage, and the lights hit the coffin okay. Now I don't think Screamin' knew the coffin was locked, so when the lights hit the coffin the music starts playing… and playing. And the coffin starts shaking on the stage, shaking and rocking. And I said, 'Ben E., Screamin's coffin's shaking.' Ben E. said, 'He can't get out, Charlie boy, I don't think he can get out.'"
With the air inside the coffin rapidly depleting, and with his last ounce of strength, Hawkins rocked the coffin enough that it fell over, cracking the casket lid and dislodging the locking mechanism, setting him free.
"So when I went back stage after the show, I hear Screamin' say, 'Where's that damn Charlie boy and that Ben E. King? I'm goin' kill them!' Damn, he was serious mad. I ran outside and the backstage man came and got me and Ben E. He said, 'You owe Screamin' an apology.'
"I said I didn't know he was in the coffin, but I heard the lock click, but I didn't pay it no mind. It took me about a good three days for me to get Screamin' to calm down and tell him I was sorry. He was ready to kick our ass so bad. It was an accident, it was just something that happened. But now, every time I pass a coffin, I check it."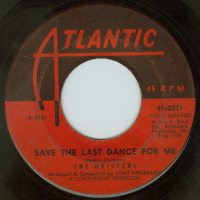 The Drifters continued to have major hits, including their first #1 song, "Save The Last Dance For Me." But by then, Ben E. King was being groomed for a solo career of his own. In fact, although "Save The Last Dance For Me" was credited to the Drifters, the record also listed the group as "Vocal Quartet, Ben E. King Lead Vocal."
"I had gotten out of the group," said King. "George Treadwell and I had a disagreement about what the group should be getting paid, and he told me if you're unhappy, leave, and I left. But I had to fulfill the recording obligation with Atlantic, so I was in the studio finishing up my songs that I had to do as a member of the Drifters, and at the end of that is when I found out that Jerry Leiber and Mike Stoller went to Ahmet Ertegun and Jerry Wexler and asked them, would they allow certain records to become Ben E. King records as opposed to renaming them the Drifters. And that's how I found a solo career. We had fabulous writers and producers, and the company people would just let us go and do what we do, just let our natural feelings get involved with the music we created."
In fact, during one of the first King solo recording sessions, Leiber and Stoller, along with arranger Stan Appelbaum, had King record "Spanish Harlem" and "Stand By Me," which were released on Atlantic's subsidiary label Atco. Both songs became hits in the winter of 1960-61 ("Stand By Me" re-entered the Top 10 hit in 1986, based on its inclusion in a motion picture of the same name).
After Ben E. King left the Drifters for a successful solo career, the quartet was now a trio. To fill out the roster, George Treadwell hired Rudy Lewis, who previously sang with the Clara Ward Singers. Lewis fit in immediately, adding his own rich voice as lead singer on "Up On The Roof," Some Kind of Wonderful," and one of the Drifters' biggest hits, "On Broadway."
In April 1963, Rudy Lewis also sang lead on the Drifters song "Only In America," a song whose lyrics told of a young black man who dreamed of a life far beyond the minimum-wage menial labor jobs that were his caste. That song would have sold millions of copies and been another jewel in the Drifters' crown of golden hits - except that at the last minute, fearing that a song of that tenor would inspire segregationists to ban the Drifters from airplay in the south, the Drifters' vocals were removed from the final tape, and the song given instead to Jay and the Americans, who made it a hit of their own (the Drifters' version was originally thought to be lost; it later appeared on the Drifters' 3-CD greatest hits boxed set, Rockin' and Driftin'). The Drifters' own answer to race relations and dreams was actually recorded in January 1963, with the "On Broadway," written by Leiber and Stoller, in combination with the Brill Building team of Barry Mann and Cynthia Weil (and featuring a cameo by Phil Spector on electric guitar). After "On Broadway," the Drifters' lineup would eventually include the return of Johnny Moore, the only singer to perform with the pre-Crowns Drifters and the 1960's lineup.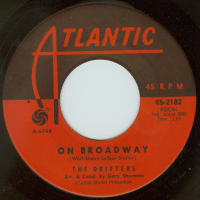 "Leiber and Stoller were geniuses," said Charlie Thomas. "We were just like a family. Gerry Goffin and Carole King, we would all get in one room and we would stay there all night long and rehearse. We also recorded songs by Doc Pomus and Mort Shuman - Doc Pomus used to have a beard all the way down to his belt We were all like brothers and sisters. It was one happy family."
Like any group or performer of color who had to perform in segregated portions of the United States, racism and discrimination were obstacles to be dealt with at every stop. "That was when the entertainers all got on the bus," said Bill Pinkney. "We did 30 one-nighters back to back, when we did that, after a month we laid off and then we did it all over again. But the entertainers, man let me tell you, they were so close together, black and white. What made it so hard, once the show was over, we had to find some place to eat, some place to sleep, or whatever. I remember one incident, we were riding the tour bus, and I can't remember what state we were going through. But usually the bus driver would pull over and let everybody get something to eat while we're traveling. On this tour, Buddy Holly and the Crickets were on the bus. It was the Irving Feld tour. The people at the restaurant when we stopped refused to feed the black entertainers. Buddy Holly then said, 'let's all leave, if they can't eat, we can't eat either.' And I admire him so much for that. He was a real man, a real entertainer and a good person."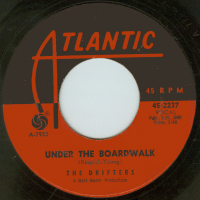 On May 21, 1964, the Drifters were to return to the studio, to record a song by Artie Resnick and Kenny Young, "Under the Boardwalk." But that morning, the group received devastating news. Rudy Lewis, who assumed the lead vocals when Ben E. King left, was found dead - although there were rumors that Lewis' death was attributed to a drug overdose, those who knew Lewis said that he had a problem with binge eating, and may have actually choked to death after a binging session. Atlantic could only get a 24-hour postponement from the union musicians in the studio for the recording date, so the Drifters had to come up with a new lead singer. Their salvation came in the presence of Johnny Moore. Without hesitation, Moore assumed the lead vocalist position, and crooned one of the Drifters' signature hits.
"Johnny Moore he had the most distinct tenor voice that I ever heard," said Charlie Thomas, "He was with the older group before he went into the Army, so when he came back to the group it really helped us a lot. We used to sign the Drifters' older songs, like 'Fools Fall In love,' which was the song he sang lead vocal on."
"Under the Boardwalk" was the first successful Drifters song since the creative team of Jerry Leiber and Mike Stoller left Atlantic for their own record label, George Goldner's Red Bird Records. Twisting the dials for the Drifters in the mid-1960s was Bert Berns, who had produced "A Little Bit of Soap" for the Jarmels, and "Cry Baby" by Garnet Mimms & The Enchanters. The success of "Under the Boardwalk" and its eventual sequel song, "I've Got Sand In My Shoes," opened the Drifters up to an entirely new audience of "beach music" fans in the Carolinas, where the Drifters' baion-based rhythms were perfect music to shag to - or do the shag with.
By 1965, the Drifters were squeezed off the pop charts by the English pop and rock bands. Songs like "At The Club," "I'll Take You Where The Music's Playing" and "Memories Are Made Of This" barely made dents in the lower regions of the pop charts. Even Atlantic Records seemed to forget the group was still on their roster, as the label's support went to more gritty soul artists like Aretha Franklin, Wilson Pickett and Percy Sledge, as well as the Stax/Volt sounds of Sam & Dave and Otis Redding.
The Drifters also experimented with more "easy listening" material, in the hopes that a new sound would take the group to the stages of Las Vegas and out of the grueling concert package tours, as Berry Gordy had with his Motown groups. But the adult contemporary album they recorded, The Good Life With The Drifters, flopped miserably. And in 1967, the group suffered two more doses of tragic news. Bert Berns, who had produced the Drifters' tracks through the mid-1960's, died of a heart attack on New Years Eve, 1967, packing an entire life into 38 years. And George Treadwell, a trumpet player and bandleader who had originally been Clyde McPhatter's personal assistant, and who would eventually manage the Drifters for the next 15 years, passed away on May 14, 1967.
By 1972, George Treadwell's widow Faye took the Drifters to England, where she had hoped to start the group with a new sound and a new fan base. The Drifters had charted hits in the UK in the early 1960's ("Save The Last Dance For Me" hit #2, and "Under the Boardwalk" and "When My Little Girl Is Smiling" gave plenty of influence to British pop singers and songwriters). But in 1972, Atlantic's UK division re-released classic Drifters recordings, which were actually charting on the glam-dominated British pop charts.
This new Drifters lineup - featuring Johnny Moore, Bill Fredericks, Grant Kitchings and Butch Leake, eventually signed with the UK-based Bell Records. "Through a stroke of luck, my agent, Henry Sellers, introduced Faye Treadwell to Roger Greenaway," said Billy Lewis, who replaced Kitchings in 1975 and performed with the UK Drifters through the 1970s and 80s. "Roger Greenaway had a production company called Greenaway Productions. He, along with Tony MacAuley and Roger Cooke, they were the crux of that production team."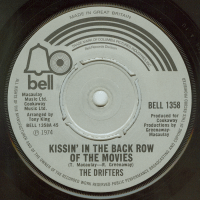 After a few stallouts, the song "Like Sister and Brother" (with Fredericks on lead vocal) hit #7 on the UK pop charts. Johnny Moore handled the lead vocal duties for the rest of the Drifters' UK recordings, and in April 1974 the song "Kissin' in the Back Row of the Movies" became the Drifters' highest-charting UK hit, reaching #2 and holding its own against Abba's Eurovision-winning "Waterloo" and the Rubettes' pop-froth "Sugar Baby Love."
"Johnny had this fantastic voice," said Billy Lewis. "He had acommercial voice, and for four black guys, he didn't sound R&B black, he had a pop voice. Johnny never really liked much of the material that we recorded over the years. He would mumble and grumble about the songs in the first rehearsals, but once you got him in the studio, he would deliver the goods. And the end production would be a hit record. We had a fine run there. Our last major hit was in 1979, 'You're More Than A Number In My Little Red Book.' We were running neck and neck with groups like Abba - if they were number 1, we were number 2."
But while the Drifters were touring Europe, another set of Drifters appeared in America. In 1969, Larry Marshak, an editor at Rock Magazine, tried to reunite some old groups for a series of concerts, including the Drifters. Marshak first called Ben E. King, who declined the invitation - but instead suggested that Marshak contact Charlie Thomas. Charlie Thomas accepted the offer, as did Elsbeary Hobbs and Dock Green, and performed as "The Drifters" throughout the 1970's. Eventually Faye Treadwell contacted Marshak, stating that she, not the singers, owned the rights to the name "The Drifters." Lawsuits and counter-suits bounced back and forth amongst each other, until, in Marshak v. Treadwell, et al. (Civ. No. 95-3794, U.S.D.C., N.J., 1999), a Federal judge ruled that Treadwell's trademark rights date back to 1954, when George Treadwell first acquired ownership and control of The Drifters. Undoubtedly litigation will continue to ensue in this matter.
Johnny Moore continued with the UK Drifters until 1981, when he left the band for a short time (Ben E. King returned to the Drifters lineup in Moore's absence to fill some performance dates). Moore later returned to the Drifters lineup, performing with the group until he retired in the mid-1990s. On December 30, 1998, Moore passed away from a respiratory ailment. Beginning in 1956, Johnny Moore's tenure with the Drifters lasted for more than four decades.
"My common bond was always with Johnny Moore," said Lewis. "I worked with Johnny Moore, and I knew Johnny inside out, and he knew me inside out. We worked together from 1974. He passed away in 1998. With the Drifters, being a member and as you go through your performance initiation, it's part of your lifelong network as part as friends are concerned. We know of each other, and we respect each other. We are in a select group, that has been through the ranks of being one of the legendary Drifters members, and no one can take that away from us."
Today, however, the surviving members of the Drifters still perform and record. Ben E. King's solo career lasted into the 1970's and 1980's, with hits like "Supernatural Thing - Part 1" and a re-release of "Stand By Me." Charlie Thomas tours every weekend with a mixture of Drifters hits in his catalog, as does Bill Pinkney, whose "Original Drifters" group has a member with a special connection to the past.
"Ruth Brown's son Ronnie is singing with me now," said Pinkney. "His name is Ronnie McPhatter - and the reason he's carrying the name McPhatter is that Clyde McPhatter is his dad. Believe it or not, if anybody would have told me when we first got started in the 1950's, if they said to me 'Bill, one day that Clyde McPhatter would have a son, and that he's going to be in the Drifters,' I never would have believed it. Small world. But I'm just so glad to have him here in my group now."
E-mail the author of this article