It was a last chance shot, but Marc Hunter took it.
The lead singer of one of Australia's most popular and beloved rock bands was deep in thought, contemplating his soul and psyche at a secluded mountain temple in Daera Chun, South Korea, studying an ancient metaphysical healing process that could help him survive the toughest battle of his life - malignant throat cancer.
Daera Chun was a long way from the smoky clubs and huge arenas Marc Hunter previously called home, a 25-year odyssey that began with a five-piece rock band called Dragon, whose greatest dreams and darkest fears often happened simultaneously; whose most exhilarating compositions of fun and sun were counterbalanced by a self-destructive swim in the excesses of rock stardom.
Daera Chun was a long way from the standing-room-only concerts in Sydney, and the beer-throwing hostility in Amarillo. Although in America, Dragon's albums spend an eternity crammed in the miscellaneous "D" bins, Dragon has found two decades of success in Australia and New Zealand. This band was so popular, when word of Marc's throat cancer reached the media, two all-star tribute concerts were held to honor Dragon's music.
Daera Chun was a long way from Taumarunui, New Zealand, where Dragon began with the young Hunter brothers, Todd and Marc. Their father played saxophone, their mother was a pianist, and before they reached their teens, Todd and Marc performed in the Hunter family orchestra. "We got guitars from Christmas one year," said Marc Hunter in a 1988 interview. "I broke mine but Todd played his. He was two years older than me and always more interested in music. I only saw it as a way of wagging school. Taumarunui was a great place to grow up in, and a great place to run away from, because you always knew you could go back to it and nothing much would have changed. It was the place where our parents always told us to 'Do what you want to do, just try and be happy doing it.'"
By the time Todd entered college in 1970, he led a band called OK Dinghy, playing Grateful Dead covers at clubs and parties. OK Dinghy lasted about two years, until the unemployment checks and the herb ran out at the same time. Todd and his mates later bounced from band to band - a Pink Floyd tribute group called Anteapot, a free-flowing covers band called Staff, bands that lasted until the gigs dried up.
Todd continued to play, and in 1973, he gathered some friends and fellow performers for an appearance at the Great Ngaruawahia Music Festival. They wrote original songs for their set list, and someone pulled the name "Dragon" out of an I Ching book. Their performance at the Ngaruawahia Music Festival led to a better gig, a few weeks performing at the Occidental Hotel in Auckland.
Although the band had a name, their early lineup was seldom stable. The lead vocalist and pianist, Graeme Collins, left the band over creative differences. The drummer, Neil Reynolds, left to start a family. Replacing Collins and Reynolds were drummer Neal Storey and keyboardist Ivan Thompson, both alumni from another Kiwi band, Mandrake. Marc Hunter, who had followed his older brother to college and had joined a band of his own, was hired as Dragon's lead vocalist.
This reformed Dragon rented a house in Auckland's tough-as-nails Ponsonby neighborhood, writing and rehearsing new material, performing wherever they could get a gig. In February 1974, after winning the Auckland Festival's all-day Rock Marathon, Dragon acquired a manager, Graeme Nesbitt, and signed with Vertigo Records. "We recorded our first album, Universal Radio (Vertigo 6360902 [N.Z.])," said Todd Hunter, "and it was on a deal where we weren't allowed to release singles because our sound was prog rock at the time. Our influences were actually American - the Doors and the Grateful Dead, and some English guys like Jethro Tull and Taste and Blodwyn Pig, all that sort of people. It was prog rock stuff when we were in New Zealand, we didn't know how to write commercial songs at that stage, we didn't have a clue."
Clue or not, Universal Radio was a hit among the Kiwi hippie and art-rock crowds. Nesbitt booked Dragon on a national tour of universities and high-end clubs throughout Wellington and Auckland and Christchurch to support Universal Radio. Their stage shows were a blend of prog rock and absurd performance art - destroying their pianos on stage, performing in Hawaiian shirts and beachcombing attire; whatever shocked the crowd or the music reporters was just fine with Dragon. What you see was what you got.
The band's lineups shifted again in December 1974. Ivan Thompson took his keyboards and went home. Neal Storey was fired, replaced, then re-hired. Graeme Nesbitt hired another Mandrake guitarist, Robert Taylor, and Dragon recorded their second album, Scented Gardens For The Blind (Vertigo 6360903 [N.Z.]). This time, Vertigo allowed them to release a single, the track "Vermillion Cellars" (Vertigo 6036908 [N.Z.]), which became their first Kiwi hit (the title was a wry pun on Dragon's musical goals). By mid-1975, Dragon was the hottest band in New Zealand, and ready to take on Australia - and someday, the world.
Before Dragon left New Zealand, they lost their manager when Graeme Nesbitt was arrested and jailed (he covered Dragon's tour expenses by selling drugs). Before he went to jail, Nesbitt suggested to Dragon a keyboardist to replace Ivan Thompson, fellow New Zealander Paul Hewson. "After we moved to Australia," said Todd Hunter, "we got Paul to come over from New Zealand and write and play keyboards for us. He had an incredible pop sensibility, wrote really great pop songs. We knew him by reputation from other bands like Cruise Lane and Freedom Express, and that he had a great sense of humor. We met him once, and he came to our last concert in New Zealand. And then we went overseas without him, and we kept sending him letters and telegrams. We sent him a telegram that said, 'Fame and fortune awaits.' So he finally came over."
The band moved into a tiny house in Paddington, moving the keyboards every time a new leak in the roof appeared; checking the guitar cases for hibernating cockroaches. At one point, burglars broke into their house and stole all their equipment. After fronting Dragon enough money to replace their stolen instruments, Vertigo dropped them after their first Australian single "Starkissed" (Vertigo 6066910) failed to chart.
But Dragon continued to perform, taking refuge in wine bars and hotel lobbies throughout Sydney, performing for anybody who would listen. "We were playing in a little place called the Recovery Wine Bar," said Todd Hunter, "and at that stage we weren't actually playing for money. The payment was a plate of mince at the end of the night, and we'd scout up the cab fare home."
Peter Dawkins, an executive with CBS' Australian music division, now enters the picture. Dawkins heard the band performing at the Recovery Wine Bar one night, and suggested Dragon might have a future with his label. "We were playing in an old lounge room," said Todd Hunter, "and all our equipment had been stolen. All we had was a clavinet sitting on chairs, our guitars and a couple of drums. And then some people from CBS came down - which was Dick Asher and a few other guys who Peter Dawkins brought in on their way in from the airport. At that stage, they said said to Peter, yeah, sign them, they took off for the plane, and that was it."
Immediately Dawkins and CBS put their corporate promotional muscle behind this new band, releasing Dragon's next single "Wait Until Tomorrow" / "Show Danny Across The Water" (CBS BA 222215 [Aust.]). But despite high-profile gigs in Sydney and Melbourne and Adelaide, "Wait Until Tomorrow" never charted. With their backs to the wall and their musical careers hanging by a thread, Dragon's new manager Bob Raymond called the band into his office. "Write a pop song that is going to get radio airplay," he told the band. "And do it tonight."
Within 24 hours, Dragon returned to the studios with a peppy song, full of hooks and a nice steady beat, called "This Time." The band knew if "This Time" didn't hit the charts, it was back to obscurity and mince. But within days, radio stations added "This Time" it to their playlist, and it started rising up the charts. Success at last.
Then tragedy.
Barely two weeks after "This Time" was released, drummer Neal Storey died of a heroin overdose. The circumstances surrounding Storey's death kept scandal-hungry sticky-beak reporters busy, and the fact that Storey's band had a Top 40 single on the radio was almost an afterthought. Devastated by Storey's death, Todd Hunter almost broke the band up and called it quits. But a few weeks later, armed with new drummer Kerry Jacobson and a Top 40 hit, Dragon was back on the road.
"There was a TV show called Countdown at the time," remembered Todd Hunter. "And we appeared on that show. We were marketed as a pop band. Even though we were the ugliest bunch of bastards you ever saw." It was part of CBS's plan - turn Dragon into another Top 40 band, make sure they presented a clean-cut image (the Storey suicide notwithstanding), and sell some records Down Under - and maybe around the world.
In 1977, Dragon took a break from touring and recorded their first CBS album, Sunshine (CBS SBP 234946 [Aust.]). Produced by Peter Dawkins, Sunshine became an immediate hit. And although all the band members received writing credits of one form or another, the songs written by Paul Hewson - the ballad "Sunshine" and the Beach Boys-influenced "Get That Jive" - became Top 20 hits. Their prog rock days behind them, Dragon were now full-fledged gold record pop stars.
But Dragon was different from any other pop or rock band the Australian media or music industry had ever seen. News reports about Storey's death were only the tip of the iceberg. Radio interviews deteriorated into glaring contests. Public appearances turned into free-for-all riots. Their concerts evolved into bizarre performance art. At the center of it all was Marc Hunter, singing the band's hits with a smoldering sexuality that nearly bordered on the satanic.
"When we went out and played in all these country towns," said Todd, "the band was quite a dark, sort of demonic band, really. Marc would leap off the stage and wade in amongst these kids with a riding crop, slashing out at them and stuff like that. It was completely incongruous, the whole thing. We had our three-minute pop songs marketed on TV, but there was an incredibly dark side to the band. It was incredibly funny and terrible at the same point. There was always that dichotomy of what it looked like to the public, and what it actually was."
And when the money came in, it went out just as fast. Band members discovered the wonders of room service, record company advances and a seemingly limitless supply of drugs and women. In the late 1970's, Dragon lived the stereotypical rock and roll lifestyle - live for the moment, have a good time while you're doing it. And as long as Marc Hunter could take the stage every night, exuding the raw sensuousness culled from equal parts Jim Morrison and Freddie Mercury, as long as all the little girls who watched Dragon on the Countdown show and bought the band's 45's with Pavlovian salivation, then what was wrong with some recreational blow?
A few months later, Peter Dawkins told the bandmembers that a new CBS label in America, Portrait Records, would add Dragon to their roster, along with folk singer Joan Baez, Guess Who frontman Burton Cummings, and the American rock band Heart. Marc's initial response was almost anticlimactic, asking Dawkins, "What the *#!%! are we doing on the same label as those has-beens?"
Still, it meant Dragon had finally reached America. Their first Stateside release, Dragon (Portrait 35068) was essentially the Sunshine album with some artwork and song titles altered. For many American music listeners in the 1970's, Australian imports were adult contemporary material designed to clog your easy listening station (the Bee Gees, Olivia Newton-John, Rick Springfield and the Little River Band). If an Aussie rock band could get one hit on American radio during the 1960's or 70's, a second hit was rare (quick, name one other Easybeats song besides "Friday On My Mind"). Which may have explained why both the album and its first single - "In The Right Direction," essentially "This Time" with a new title - did not chart.
But they still had their Australian fans, and by Christmas 1977, Dragon gave them their second CBS album, Running Free (Portrait PR 33005 [Aust.]), an album that went gold based on pre-orders alone. Paul Hewson's lyrics and the Hunter brothers' melodies melded well, and within weeks the album went platinum. Then double platinum. Stores couldn't keep the album in stock before Dragon's fans snatched it up.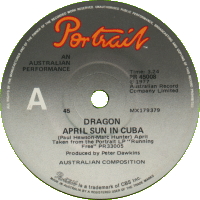 One track from the Running Free album, a song about an unlikely beach getaway, "April Sun In Cuba" (Portrait PR 45008 [Aust.]), received so much radio airplay that CBS rush-released it as a single. And through those hot January and February Australian summer months, "April Sun In Cuba" blasted out of car stereos and panelvan radios. And it spent weeks at #2 on the pop charts, flanked out of the top spot only by Paul McCartney's worldwide bagpipe smash "Mull of Kintyre."
Dragon continued to tour, first supporting Boz Scaggs through Western Australia; then a 60-city tour of their own. The money kept coming in; it kept leaving in a mixture of champagne and cocaine. Paul Hewson and Marc Hunter were supporting $200-a-day heroin habits; Robert Taylor and Kerry Jacobsen were drinking themselves silly. Todd Hunter had to keep the entire band together, keep the roadies from discharging rifles in the hotel rooms; make sure that everybody was awake and that nobody had overdosed.
By Easter 1978, Dragon took a small vacation on Magnetic Island, a holiday resort off the Queensland shore. Within three days, Marc Hunter and Paul Hewson had wrecked a catamaran; the roadies dumped some motorized golf carts into the sea; and Kerry Jacobson and Robert Taylor broke into a moored yacht and stole bottles and cartons of contraband liquor! The rock and roll lifestyle was still in force. The record company could pay for the damage, right?
Dragon released their third CBS album, O Zambezi (Portrait PR 33010 [Aust.]), in September 1978. The first single from that album, an ode to leaving jail and avoiding jailbait called "Are You Old Enough" (Portrait 45016 [Aust.]), became Dragon's first #1 single. "We always said we would break up as soon as we got a number one," said Todd Hunter, "and we got to number one with that song. I said, 'come on guys, let's do it,' and the guys said, 'Are you crazy?'"
How could the band stop now? They had a number one hit, a top 5 album, and they were on their way to America for a nationwide tour.
On November 11, 1978, Dragon arrived in Los Angeles to begin their American tour. Tracks from their Running Free and O Zambezi albums were repackaged into an American release, Are You Old Enough (Portrait JR 35554), and the band wanted this to be their best tour ever.
Their tour was a support gig for the Johnny Winter Band throughout the Southwest. The pairing couldn't have been worse if Judas Priest opened for Amy Grant. Try as they might, Dragon couldn't win over the blues-loving crowd, and the audience's heckling got to Marc. "The Johnny Winter tour was the most incongruous thing ever," said Todd Hunter. "That was a trial by fire. And Marc was incredibly controversial on stage. People would be throwing buckets of ice and boots, everything, at the stage. He'd be waving across at the fallback monitors, saying 'More, more noise,' putting his finger up in the air, saying 'I want more fallback,' and the people on the side of the stage, down the front, would think he was flipping them the bird."
When the tour rolled into Austin, things went from bad to worse. Dragon took the stage, performed three of their biggest Australian hits to a largely hostile audience, then Marc changed gears. "I've got the Texas flu," he said to the crowd. "I was reading today that in the state of Texas it's illegal to perform oral sex on a female. Is that right? Conclusion: all Texans are faggots."
That woke the crowd up. Suddenly beer bottles and ice buckets sailed from the crowd to the stage, and the band ran for their lives. But not Marc. "Marc waded out to the front tables," said Todd, "assumed a crucifixion pose, and crap rained in across the footlights. It was like the Sex Pistols tour. Johnny Winter's roadies would take bets about who was going to shoot him first. And after we finished our support spot in the concert, they'd come in with buckets and mops to clean the whole stage off. That was the tenor of our American tour."
By the time Dragon reached New York for a record company showcase concert, their relationship with Portrait was on shaky ground. All the band had to do was make nice with the record company executives, radio station program directors and music journalists, and the American tour could be salvaged. The band filtered in - Marc Hunter and Paul Hewson showed up more than fashionably late, while the rest of the band found the buffet table more engaging than the VIP's - and gave a half-hearted performance that eventually ended their affiliation in America. The record company did release Dragon's two biggest singles, "April Sun In Cuba" and "Are You Old Enough," but with minimal promotion, neither record charted in the States.
Dragon could still have hits in Australia - while they were in America, a Hewson-penned ballad called "I'm Still In Love With You," hit the Top 10 - but by 1979, their stage shows were falling apart. The rock and roll lifestyle caught up to the bandmembers, including Marc Hunter, whose voice started to give out. Todd Hunter had a tough choice on his hands - let Dragon disintegrate into utter self-destruction, or get his brother out of the band - and into a healthier lifestyle.
Finally, in 1979, Marc Hunter was fired from Dragon. "We had to fire him from the band to keep him alive," remembered Todd. "He was quite a star, and there was a big drug scene in those days, and drink and everything. As his brother, I was incredibly sick about the things he was doing to himself. We fired him - he sorta got ejected, because his self-destructive streak was so wild, it was obvious where it was heading."
Initially it headed toward a solo career, as Marc released his own album, Fiji Bitter, in 1979. His solo career also became a sober career, as Marc left the drug scene behind to focus on new musical frontiers. Meanwhile, Dragon continued on. "Half the band wanted to go in the direction of traditional blues, so Billy Rogers came in and played sax, and I was more interested in the whole punk thing and everything that had happened at that time, so I brought in a guy called Richard Lee to play electric violin. It didn't work - we went for about nine months or so and then folded. Some nights it was great, but mostly we should have stopped it then."
After one poorly-selling album with this new lineup, the lounge-rock disc Powerplay, Dragon called it quits in December 1979. Most of the members worked on solo projects or session work, and groups like the XL-Capris or Scribble had former Dragon members writing or producing or performing their songs. Marc even performed with the Party Boys, an all-star outfit featuring Joe Walsh.
But Dragon had left behind enormous expenses and bills in its wake - advances and restitutions and the like, and the collectors and lawyers were looking for any chunk of change they could get from the band. "There were all these debts hanging around from the profilgate pop star lifestyle," said Todd Hunter. "So we got a good solicitor and rounded up all the debtors and offered them 7 cents on the dollar or something like that. We regrouped and did a 'Reformation' tour to pay off these debts. So we played about a week and that paid the debts off, and then we just kept going."
During their down time, Marc Hunter had scored a record deal with Polygram, and was working with an American producer, Alan Mansfield, on a new solo album. A former keyboardist with Robert Palmer and Bette Midler, Mansfield suddenly discovered he was not only working on Marc's solo album - but on a new single for Marc's former band. "I was doing a lot of production work," said Alan, "and hooked up producing Marc as a solo artist, recording an album called Communication. At that time, Dragon were working on a deal with Polygram Records, so I got hooked into doing some production with them."
He later turned the dials for what would be Dragon's comeback hit "Rain" (Mercury 812 763-7 [Aust.]), an uptempo dance track co-written by the Hunter brothers and Todd's girlfriend Johanna Piggott (who later became Mrs. Todd Hunter). "When they came to me to produce it," said Mansfield, "we hacked around and chopped and changed it - it evolved as the band was playing."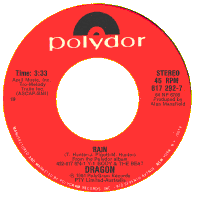 "Rain" suddenly took off, hitting the Top 10 within days of its release. It also cemented a new record deal for the band, as well as another chance to return to the top of Aussie rock. But before Dragon would record another single, they had to clean out some personal demons of their own. "Everyone was still into the same old stuff," said Todd Hunter, "alcohol and drugs and everything from the 70's, and we laid all this stuff down and said, 'we've got to try and pull this together and clean up. So everyone who wants to just be straight and try to do this properly should stay, and anyone else who doesn't should leave.' And the guys who didn't want to, left."
Drummer Kerry Jacobson was one of the members who left. Dragon filled in with studio drummers and session men for a while, until one of the session men mentioned that former XTC drummer Terry Chambers had married an Australian girl and was living in Belmont, about 60 miles from Sydney. Within days, Marc and Todd convinced Chambers to join Dragon.
Alan Mansfield, the man who produced their comeback song "Rain," was also asked to join the band. "Here's the standing joke that we had going around at the time," said Mansfield. "If 'Rain' didn't reach #1, I had to join the band. It made it to #2 and sat there for months because there was some kitsch comedy single called 'Australiana' that sat at #1 because it was so quirky. It was a comedy thing. I heard stories about Dragon's reputation in the old days, it was sorta road crazed and everything. I had come to know them all real well, and I knew this was a serious major money tour that was being put forward. So I joined, and we finished an album, which became Body and the Beat."
Nine days after its release, Body and the Beat was certified gold. In an era when albums produced only two or three hit singles, Body and the Beat spun off five of its ten tracks onto the Aussie pop charts - "Rain," "Magic," "Cry," "Body and the Beat" and "Wilderworld."
Meanwhile, the world was discovering that Australian and New Zealand rock was more than just tying a kangaroo down, sport. Top 40 stations discovered Men At Work and Split Enz. College stations picked up on InXs and Midnight Oil. Suddenly American labels were signing Goanna, the Australian Crawl, Real Life and the Church, looking for the Next Big Thing.
For Dragon, "Rain" became their first American charting hit - albeit reaching only #88 on the Billboard charts. But it was another step. "'Rain' had a pretty good run in the States," said Alan Mansfield. "It did a lot of college breakout and stuff."
But the new musical direction, a tighter mixture of rock and ballads, seemed to alienate Paul Hewson. The man who wrote many of Dragon's greatest 70's hits co-wrote only one track on Body and the Beat, a track called "What Am I Gonna Do?" that later appeared on a B-side. After Dragon completed a tour to support Body and the Beat, Hewson left the band, flew to New Zealand and joined a band called the Pink Flamingos. "About three weeks later," said Mansfield, "we got the word that he died from an overdose. He was a great writer, he had a natural flow for it, and it's a real shame. The guy was missed terribly."
The Hewson era was sadly over. But another era began.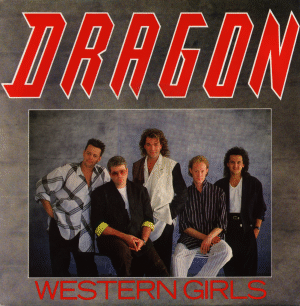 By 1985, Dragon's lineup included the Hunter brothers, Alan Mansfield, former Jethro Tull drummer Doane Perry, and a young guitarist, Tommy Emmanuel, who was hand-picked to join Dragon by Mansfield. "From the time Tommy was a kid, he used to write with Chet Atkins, they used to correspond back and forth. He loved Chet's style and he did all that. I just asked Tommy to join the band - we had gone through so many guitar players, and I just said why don't you just join the band? He said yeah, and it was that simple."
Polygram wanted to break Dragon in the states, and offered the band a list of American producers who would be willing to work on the band's next album. Dragon selected Todd Rundgren, and Polygram shipped the group up to his Bearsville studios in upstate New York.
"We sat there for two months and recorded it up there," said Mansfield. "And he took it himself and mixed it, and his recording style was hard to remix. He put a lot of things to tape. XTC came in around that same time and he produced an album for them too, and they hated the process. His thing is get it done and mix 3-4 songs in a day. It wasn't what we were used to, and when the songs that were going to be singles went to be remixed in New York, they just had a hell of a time, because they had to reprocess and redo so many things - the EQ's, delays, reverb and all were pretty tough to remix."
The album, Dreams of Ordinary Men, was released in Australia and became another major chart-topping album. Aussie radio stations went four or five tracks deep into the new release. But Polygram threw one more monkey wrench into the machine. "The record company were worried that Dragon sounded like a heavy metal band," said Todd Hunter, "so they suggested we change it for the European market. Being a bunch of amiable idiots, we said 'Okay, call it Hunter.'"
So the band was quickly renamed "Hunter" outside its Oz boundaries. Polygram got them a plum spot as the opening act on Tina Turner's European tour, and Dragon - er, Hunter - played to some of the largest crowds they had ever seen. For this tour, the bandmembers were as healthy as ever, with the only drug of choice being Vitamin B12. "We get over to Germany on the Tina tour," said Todd, "and everywhere we went people said 'Hunter, is heavy metal band, ja?' We were playing 100,000 seat bull rings and stadiums and coliseums. Marc was really trying to get the crowd to support us, and it was a good band with Doane Perry and Tommy Emmanuel, who is a great guitar player - we'd get encores and all that sort of stuff, and the crowds would really like it, even though they didn't know who they were or anything. Out of that whole six months, if anyone tried to go and buy a record in a store, there were none. Not in any record store, anywhere. So Polygram effectively spent about $750,000 keeping us on the road, in good condition, and there was no records to be sold in the stores. Individually, the record companies were quite reasonably intelligent people, but collectively we just had this fantastic shield of stupidity to work with. There are a million bands with that story that never made it. But it's a great thing to be part of. I don't regret it at all."
Dragon dropped the "Hunter" nickname in 1988, and recorded a new album, Bondi Road. Despite a new hit single, "Young Years," and big sales in Australia and New Zealand, Dragon's new label BMG did not export Bondi Road outside of the Pacific Rim. By 1990, the group's recording output was limited to a few assorted singles here and there, and a tour whenever they wanted. Marc Hunter released some solo adult contemporary albums, Alan Mansfield returned to his production duties; Tommy Emmanuel earned a 1997 Grammy nomination for "Smokey Mountain Lullaby," a collaboration with his idol, Chet Atkins.
Dragon's last studio album was greatest hits package called Incarnations, where the band reworked, re-interpreted and re-recorded their classic hits. But even without an album on the shelf, Dragon could still sell out a concert hall throughout Australia or New Zealand, with fans singing along to every word and note. And although they might not see the millions of dollars that flowed through their fingers in the 1970's, their days of mince were behind them for good.
By 1997, Dragon's lineup included Marc Hunter, Alan Mansfield and some session men; Todd left the band to compose the musical score for a television drama, "Heartbreak High." In November, just before commencing a 40-date Australia-New Zealand Dragon concert tour, Marc felt something odd in his throat. One doctor told Marc he probably had tonsilitis and sent him home. Unsatisfied with this diagnosis, Marc visited a throat specialist.
"The doctor felt around my throat," said Marc to reporter Pamela Lesmond, "and said, 'You have a large cancer.' I sort of didn't hear anything for a minute. I was stunned. I just sat there.'
The diagnosis - malignant throat cancer, possibly caused from 25 years of tar and nicotine, singing and performing in hazy clubs and bars, a lethal mixture of first-hand tar and second-hand nicotine. The doctors gave Marc his options - chemotherapy and surgery to remove the tumor, the possibility that he might never sing again, and the worst case scenario - a life expectancy of only six months.
"I've thought, 'Everybody dies and I am going to die sooner or later,'" said Marc. "It's pointless wondering things like, 'Why me?' because you could equally wonder, 'Why not?' I've had a niggling fear that all those years smoking cigarettes were coming home to roost. I am a very positive person. I am not trying to downplay the seriousness of it, but many people have had worse things happen to them."
Within days, news of Marc's throat cancer sent a shockwave through an Australian music industry that had just rebounded from Michael Hutchence's suicide. Quickly, Australian blues singer Renee Geyer gathered various performers and bands for a Dragon tribute concert, the profits from which would help defray Marc's medical bills and provide for his two children. "He's a dear old friend," said Geyer to the Melbourne Herald Sun, "and he's someone who's put a lot of time and energy into the business. I just thought it would be great for the industry to give a little bit back to someone who has given so much."
The first benefit/tribute concert, "Night Of The Hunter," was held in February 1998 at the Palais Theatre in St. Kilda, near Melbourne. Many of the artists performed a classic Dragon song within their sets - "Are You Old Enough?" by Tex Perkins and Co.; Chris Wilson singing "O Zambezi," Paul Kelly and Renee Geyer performing a duet of "I'm Still In Love With You," the rock band Snout performing "Rain," and Men At Work frontman Colin Hay performing a song he had written in Marc Hunter's honor.
Then came the finale. "April Sun In Cuba," one of Dragon's biggest hits, as performed by John Farnham and his band, with Todd Hunter sitting in on bass. As Farnham was singing and the crowd remembering lyrics about being tired of the city life and snake eyes on a pair of dice, Renee Geyer brought Marc Hunter onstage and handed him a microphone.
The crowd erupted in cheers.
"People were standing up and yelling and cheering and crying," said Todd Hunter, "it was incredible. Marc sang, maybe for the last time, that song. These musicians' incredible generosity was so phenomenal. There was a time when Marc thought nobody cared about his music. But he was amazed by what all these guys were doing, and it got to him in an incredible way."
But Marc's throat cancer continued. He needed the strength to undergo another operation, before the cancerous cells spread to his his brain and lungs. But his energy was low from previous surgeries and chemotherapy. Three weeks after the Melbourne concert, Hunter and his wife flew to Daera Chun for one last option - an ancient healing process called Qi, which was a blend of meditation, diet and chun su massages.
Back in Australia, Marc Hunter's situation spurred more fundraisers. Peter Dawkins, who produced Dragon's records during the CBS/Portrait years, offered his own gold record of "April Sun In Cuba" for auction at a record company function, with the proceeds earmarked for Hunter's medical funds. Sony CEO and Chairman Denis Handlin secured the gold record with a final bid of $10,000.00 - and four other labels kicked in an extra $2,000.00 apiece. And after the auction, Handlin offered to return the gold record to Dawkins.
A second benefit concert, this time in Sydney, featured another Who's Who of Australian musical talent, past and present. If the Melbourne concert was a tribute to Marc Hunter's voice, the Sydney concert was a celebration of the whole band and their output - Paul Hewson's lyrics, Todd Hunter's guitar chops, Alan Mansfield's keyboards, you name it. Men At Work regrouped for the first time in a decade to perform at the concert. Members of InXs performed for the first time since the death of Michael Hutchence. Midnight Oil's Peter Garrett and Cold Chisel's Jimmy Barnes duetted on Dragon hits "Dreams of Ordinary Men" and "Speak No Evil." Glenn Shorrock of the Little River Band was there - so was the Australian Crawl's James Reyne, Mondo Rock's Ross Wilson, former Dragon bandmembers Robert Taylor and Tommy Emmanuel, and a host of other Oz music legends. While Marc Hunter could not attend this concert, he sent a letter from Daera Chun, which was read to the crowd and expressed his heartfelt appreciation for all their efforts and support.
Marc returned to Sydney a few weeks later, as the Qi training gave him enough strength to undergo a strenuous 10-hour throat operation. At press time, he is recuperating in a Sydney hospital, his wife Wendy by his side throughout. He can speak for a few minutes at a time, and he plans to continue his Qi studies and treatment throughout his convalescence, including herbal remedies and chun su massages. And although no one expects him to take the stage tomorrow and belt out "April Sun in Cuba," Marc's family, friends and bandmates are extremely pleased with his progress.
"I have thought a lot about the possibility of dying," said Marc to the newsmagazine New Idea. "Now, I believe it doesn't really matter when or where you die, but how you live your life. If somebody diagnoses you with cancer and tells you they are going to cut open your jaw and take out a tumor, you would panic unless you had something to sustain you. But my time with the Qi masters gave me a tap on the shoulder and reminded me we are spiritual beings."
---
EPILOG
Marc Hunter passed away in his sleep on July 17, 1998. After his treatments at Daera Chun and the throat operation in Sydney, he spent the remaining months of his life in the company of his wife, children, family and close friends. He was only 44 years old. He is survived by his wife Wendy Heather, three children, his bandmates, and millions of Dragon fans around the world.

Including this author.
---
This article was completed by using a variety of sources. Todd Hunter and Alan Mansfield were interviewed for Goldmine; Marc Hunter's quotes come from previously printed sources, including New Idea and the Melbourne Herald Sun. The research material for this article, along with other quotations from Marc Hunter, came from two major sources: "Ponsonby Rock: Sordid Tales of Dragon," written by John Dix and published in the book "Stranded In Paradise"; and "Marc & Todd Hunter Back to Bondi," written by Glenn A. Baker and featured in his book "External Combustion." The assistance of Glenn A. Baker is greatly appreciated and acknowledged, as well as the assistance of two students from Monash University, Elizabeth Angus and Jamie Scuglia, and Dragon's personal management team, including Philippa O'Meara and Stephen White.
Write an e-mail to the author of this article