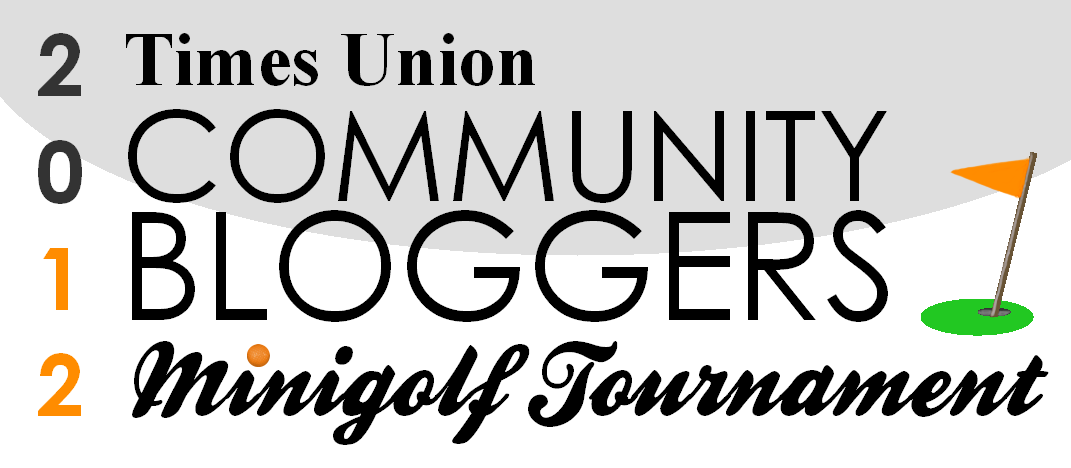 The Times Union Community Bloggers'
Minigolf Charity Tournament
Donate to your favorite charities as four popular Times Union community bloggers take to the links on May 12, 2012 at FunPlex in East Greenbush.
Donate to your favorite charities as four popular Times Union community bloggers take to the links on May 12, 2012 at FunPlex in East Greenbush.

LEUKEMIA AND LYMPHOMA SOCIETY
Jeannine Trimboli
Jeannine Trimboli's Real [Fit] Life blog
Why Jeannine chose this charity: What would I ever do, how would I ever cope, if one of my children ever became stricken with a life threatening disease? No one gets to choose whether their kids get cancer or not. Their kids don't get to choose, their parents don't get to choose, and neither do their siblings. Bills still have to be paid, jobs still have to be worked, and life doesn't stop and wait for you to get through it.
CAPITAL DISTRICT HABITAT FOR HUMANITY
Jason Purvis
Jason Purvis' blog
Why Jason chose this charity: Helping people into affordable homes builds a community. I want my children to understand that sense of community and think it's important to promote good housing stock and civic engagement.
RELAY FOR LIFE: AMERICAN CANCER SOCIETY
Chuck Miller
Chuck Miller's blog
Why Chuck chose this charity: I lost relatives to lung cancer. I lost other friends to liver cancer. I don't want to lose anyone else to any other form of cancer. At one time, cancer was a death sentence. Today, although there is not a universal cure for cancer, there are treatments and, in some cases, the possibility of remission. Any money raised will bring us that much closer to finding another cure, another treatment, another person who outlived a dreaded diagnosis.
CAPITAL REGION AMERICAN HEART ASSOCIATION
Stephanie Snyder
Stephanie Snyder's blog, A Professor's Wife
Why Stephanie chose this charity: I will be golfing for the Capital District chapter of the American Heart Association. My father passed away following a sudden massive heart attack at the age of 43; I was 18. Since then, my older brother has received emergency ablation to correct supraventricular tachychardia, and I've learned that I have extremely high cholesterol (300+ total) which can only be significantly lowered by medication. In 2008, I became a certified CPR/AED instructor through the American Red Cross and taught hundreds in Southeastern Ohio prior to moving here. I haven't actively participated in any AHA fundraisers and look forward to starting!
We four community bloggers want you to help us raise as much money as possible for these charities. In addition to raising money for these various worthwhile organizations, we will also participate in 18 holes of miniature golf at the FunPlex in East Greenbush on May 12th. The winner of the golf tournament will receive additional personal donationsf rom the other three bloggers. It all culminates into a fantastic event.
Come out and support us. Every dollar helps bring us that much closer to a brighter future!